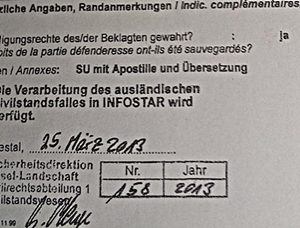 The Divorce is not legal:
The divorce was in the Czech Republic in 2011 without me, I was in a Hospital in Germany.
Liestal, the Village from Andel and me got the papers translated Vienna, Austria in 2013.
I never saw this document and I never signed this document.
I did not know about my divorce. My rights were not protected.
Andel never paied something for me and I cannot marie again, because
I Need a stamp in my Family book.
INFOSTAR is a Swiss Online Passport Office. It is possibel that Andel
changed my Status. But for the Moment I don`t know. I know only, that
the Swiss Office do not tell me the true.
Family Law, Swiss says: All I got from parents is mine. The Czech divorce
use any Family Regulation or payment Regulation.
But also here, Andel had very good Connections to someone.
Some documents are in my Facebook account.
Not visibel but fact is the handwritten notes from the same Person in Switzerland.
This is my Name geb. Dietschi and the Date Liestal, 25. März 2013
Nr. 158, Jahr: 2013 and a signature which I cannot read.