Staatsanwaltschaft des Kantons Schwyz
Sicherheitsstützpunkt Biberbrugg
CH- 8836 Bennau
First reported to the Office for moneylaundering by the Bank UBS AG.
5 Days after reported by Daniel Stadler to the Kantonspolizei, canton Schwyz.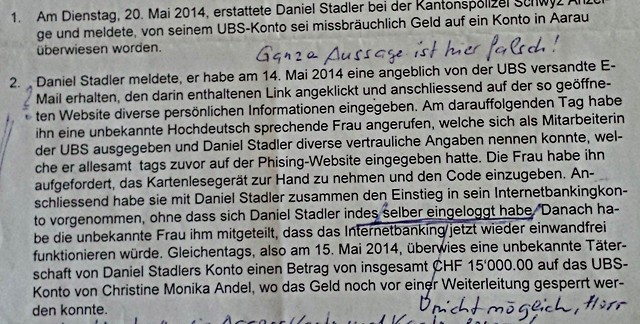 Message in English: The 14th may 2014 Stadler got a emal from the Bank UBS, a phishing mail. He opened the mail an gave his privat informations. One day after a unknown woman from the Bank UBS called him. The woman told him to take the card reader in his Hand and set the Password. Written in the german text ,,Code,, what ever they mean with this.After that she helped Stadler to come on his Internet Banking account. Stadler was not connected.
Stadler lies. An internet connection is necessary. You Need your UBS Agreement number and after that the Client Receives 4 different and still new Passwords.
Important: The Money was transfered from the account Stadler to the account Noser and this step by step. The Money arrived in one Transfer to my new open and empty UBS account.
Daniel Stadler:
Siegwartstrasse 37
CH- 6403 Küssnacht am Rigi
28.12.2015, SHAB 251, Tagebuch-Nr: 6687 vom 22.12.2015
TA Hydronics Holding AG
, in Füllinsdorf, CHE-109.617.638, Aktiengesellschaft (SHAB Nr. 67 vom 07.04.2014, Publ. 1439417).
Eingetragene Personen neu oder mutierend:
Ernst & Young AG (CHE-491.907.686), in Zürich, Revisionsstelle [bisher: Ernst & Young AG (CH-020.9.001.069-0)];
Spencer, Peter
, britischer Staatsangehöriger, in Crassier, Präsident des Verwaltungsrates, mit Einzelunterschrift [bisher: britischer Staatsangehöriger, in Kidderminster (UK)].