In April 2007 my permanent order to my German Bank was changed to the Komercni Banka a.s. Prague, account Peter Andel.
Each month 1000,00 Swiss Francs. I say not from Andel but in his order! Both Andel and Hirter were knowing that I don`t use E-Banking.
CHANGED FROM WHOME?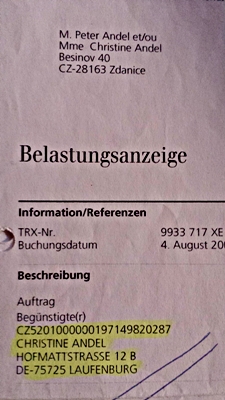 Bank Law Swiss: A permanent order can be canceld or changed only with the signature
of the Person which gave the order. In my case I gave the order in 2005 personally and with
my signature.