Zahlungsauftrag Sparkasse Hochrhein, Bad Säckingen
vom Dezember 2005.
Der Zahlungsauftrag ausgeführt durch Peter Andel ist eine Fälschung in Zusammenarbeit
mit der Komercni Banka a.s.
Zum Zeitpunkt des Emailerhaltes Frau Schober, Sparkasse Hochrhein war Andel mit
mir in Laufenburg, Deutschland. Er war nicht in Tschechien und nicht auf der Komerni Banka a.s.
Der verantwortliche Bankangestellte hiess Lobomir Nespor.
Recieved Email from the Sparkasse Hochrhein in 2005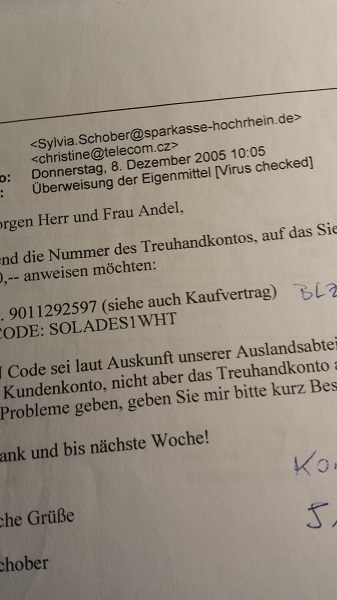 Email Sparkasse Hochrhein 08.12.2005, Frau Schober, Zeit: 10.15 Uhr
Auftragseingang Komercni Banka a.s. 08.12.2005, Zeit: 10:50 Uhr
Email kam an mich. Ich hatte in Deutschland keinen Computer und Andel war mit mir. Die Unterschrift wurde entweder vorher angefertigt oder sie wurde gefälscht.
Der Zahlungsauftrag wurde am 09.12.2005 über Euros 171 000 ausgeführt.
OFFEN: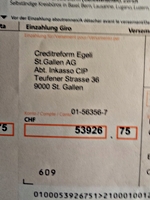 Fake: Peter Andel was the 08.12.2005 with me in Germany. He was not inthe Czech Republic. The email arrived me 10:15h. At 10:50h the email was by the Komercni Banka a.s. First: I had any Computer with me.
Second: The Bank employer had the signature from Peter Andel or he faked his signature.
I have now to pay around Euros 50`000 which have not.