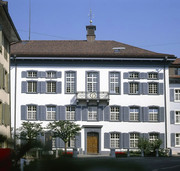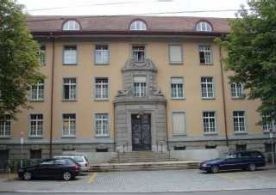 Bestechungsvorwürfe
CORRUPTION
STAATSANWALTSCHAFT
BASEL-LANDSCHAFT, 4410 Liestal
Staatsanwalt U. Geier und Staatsanwältin Andrea Vollenweider
U. Geier hat mit meiner ungültigen Scheidung zu tun.
STAATSANWALTSCHAFT ZUERICH-SIHL
Staatsanwalt Daniel Regenass, Staatsanwältin Dr. Ursula Frauenfelder Nohl
sowie Dr. jur. A. Fischbacher
STAATSANWALTSCHAFT ARLESHEIM BASEL-LANDSCHAFT
Untersuchungsbeauftragter L. JUON
Appellationsgericht Basel-Stadt
Beschwerdegericht
Bäumleingasse 1
CH- 4051 Basel
Hornussen, 28.12,2016
Aktenzeichen S160712249 / Schreiben der Basler Staatsanwaltschaft vom 06.12.2016
Mir liegen 3 Schreiben wie folgt vor:
1. Schreiben der Staatsanwaltschaft Arlesheim vom 16. Oktober 2012, Unterschrieben von dem Untersuchungsbeauftragten L. Juon. Text wie folgt:
Text: Unter Bezugnahme der beiliegenden Verfügung der Staatsanwaltschaft Zürich-Sihl vom 11. Oktober 2012 lassen wir Ihnen die Unterlagen welche Sie an unsere Dienststelle gesandt haben, wieder zukommen.
2. Auf dem gleichen Brief befindet sich der Stempel der Staatsanwaltschaft Zürich-Sihl gestempelt am 07.11.2012.
3. Die Nichtanhandnahmeverfügung durch Herrn Daniel Regenass ist per 16.11.2012 datiert.
Ich muss mich fragen, wer lügt. Es kann ja nicht sein, dass Herr Juon Staatsanwaltschaft Basel-Landschaft , Arlesheim mir am 16.10.2012 schreibt er sende gemäss Entscheid Zürich meine Unterlagen retour und ich erhielt keine Unterlagen. Und es kann nicht sein, dass am 16. Oktober eine Entscheidung seitens Zürich getroffen wurde, wenn diese erst am 16.11.2012 verfasst worden ist.
4. Beilage des Schreibens der III. Strafkammer vom 13. Juli 2016.
5. 2 Beilagen der Staatsanwaltschaft Zürich-Sihl, Staatsanwältin Dr. Ursula Frauenfelder-Nohl.
Datiert 25.02.2014, 06.08.2014 sowie 23.01.2015.
6. Schreiben der III. Strafkammer vom 13. Juli 2016
7. Schreiben von Frau S. Reisch Obergericht des Kantons Zürich vom 15.09.2016
Es fehlen neben dem umstrittenen Dauerauftrag vom 2005, abschlossen mit meinem Ex UBS Berater Alejandro Hirter auch das von mir unterzeichnete UBS Mandat sowie einige Original UBS Bankbelege.
8. Verfügung betreffend Edition vom 20.05.2015, Staatsanwaltschaft Basel-Landschaft, Staatsanwältin Vollenweider. In der Verfügung wird die UBS AG aufgefordert, Eröffnungsunterlagen etc. der Staatsanwältin zuzustellen. Frau Vollenweider arbeitete im Auftrag des Staatsanwaltes U. Geier sowie Staatsanwaltschaft Zürich-Sihl. Alle meine Beweise lagen ab November 2012 in Zürich. Auch die Beweise gegen meinen Mann Peter Andel. Die von Frau Vollenweider verlangte Unterschriften Karte erhielt ich erst nach meiner polizeilichen Anzeige der Staatsanwaltschaft bei der Kantonspolizei in Zürich.
Dies ändert nichts an den Fakten meiner Anzeige UBS AG, Alejandro Hirter. Richtigerweise verlangte Frau Vollenweider die Abklärung des Dauerauftrages.
Ich halte fest: Den Dauerauftrag unterschrieb ich persönlich im Januar 2006 bei Herrn Hirter. Alle Zahlungen liefen bis April 2007 auf die Commerzbank AG, Lörrach zwecks Zahlung der Liegenschaft Hofmattstrasse 12B, D- 79725 Laufenburg.
Ich will von der UBS AG oder Alejandro Hirter die Belege sehen, wann eine Online Aenderung im April 2007 stattgefunden hat. Die Bank muss das nachweisen. Ebenfalls will ich wissen, weshalb ich nicht über die Aenderung des Auftrages informiert wurde. Zudem weise ich darauf hin, dass eine Auftragsänderung nur schriftlich möglich ist. Wie bereits erwähnt, hat die Bank nicht das Recht einen Dauerauftrag auszuführen, wenn das Konto leer ist. Ich hätte gefragt werden müssen und auf gar keinen Fall zulässig die Aktienverkäufe zur Deckung des gemeinsamen Kontos von Peter Andel und mir.
Unterschrift Generalvollmacht: Die Vollmacht wurde am 07.10.2002 durch Herrn Hirter ausgedruckt und von uns am 09.10.2002 unterschrieben. Herr Hirter hatte von mir keinen Auftrag einer Generalvollmacht. Dementsprechend kündete ich am 21.12.2007 keine Vollmacht. Schreiben Hans Peter Farner und Dieter Bachmann, UBS AG vom 28. Januar 2014. Unterlagen sind bei der Staatsanwaltschaft Basel-Stadt.
Am 07.10.2002 unterlief Hirter den Fehler der Idendität von Peter Andel. Er schrieb anstelle Schweiz Tschechien und strich es später durch. Hätte Hirter sauber gearbeitet und auf meinen Wunsch hin eine Generalvollmacht erstellt, dann wäre das Blatt am 09.10.2002 ausgedruckt und die richtige Pass ID von Peter Andel verwendet worden. Genau wie auf der nicht nötigen Adressnachführung da die Adresse in Liestal seit 1999 bekannt war.
Hinweis England: Der am 04. März 2005 abgebuchte Betrag von 650,00 englischen Pfund belegen, dass Peter Andel eine Vollmacht auf das gemeinsame Konto in die Schweiz gesendet haben muss.
Anders ist ein Cashbezug nicht möglich.
Was mit meinem Portfolio in Liestal geschah ist zurzeit noch völlig unklar.
Hornussen, 28.12.2016
Christine Andel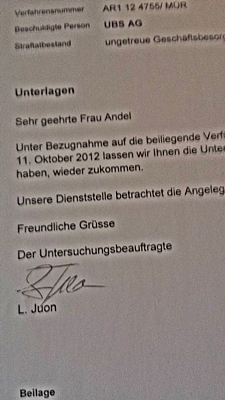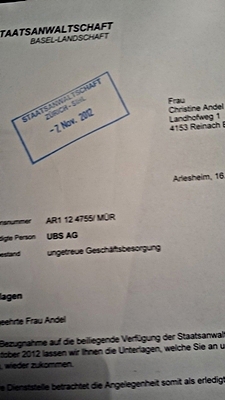 1. Schreiben der Staatsanwaltschaft Basel-Landschaft, Arlesheim, L. Juon
vom 16.10.2012 mit Stempel der Staatsanwaltschaft Zürich-Sihl vom 07.11.2012
1. Letter Swiss Prosecutor City Arlesheim. L. Juon, dated 16.10.2012 with the stamp from the Swiss Prosecutor City Zürich-Sihl dated 07.11.2012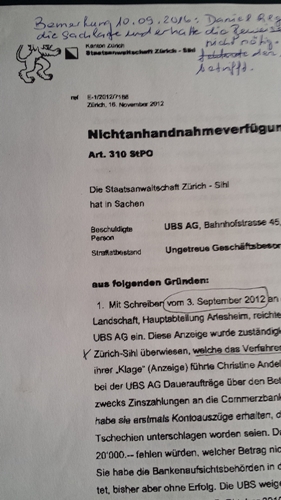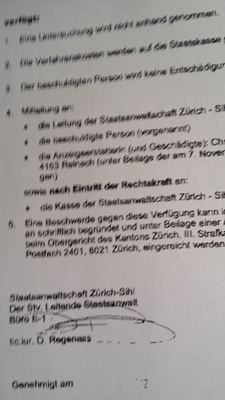 Nichtanhandnahmeverfügung Daniel Regen, Staatsanwalt Zürich-Sihl vom 16.11.2012
The Swiss Prosecutor Daniel Regenass wrote the negativ Statement the 16.11.2012.
So I did not get back my evidence and something is wrong. The evidence I got back in 2016 after a letter to the Police in Zürich.